FACILITIES
The Casablanca Beachfront Apartment facilities include:
Undercover parking
Heated swimming pool and BBQ area
Half court tennis with free equitment to hire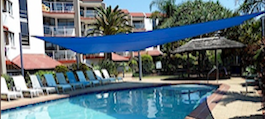 These facilities are augmented by the wonderful public facilities right on our doorstep. These include BBQs on the beach, three very well equipped children's adventure playgrounds, a large open public area complete with a large fountain that will amuse children for hours while you relax in any of the cafes and restaurants that overlook the park area and beach.
The stunning location, well appointed facilities and warm welcome provided by Casablanca's manager have resulted in a very high return rate amongst our guests. Casablanca provides the perfect home away from home while exploring the beautiful Sunshine Coast.